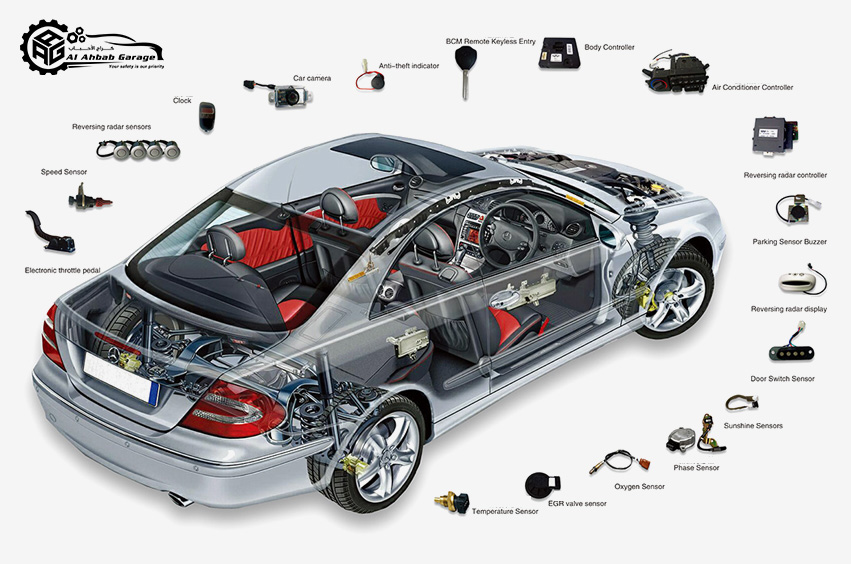 Electrical and Electronic Systems
The electrical and electronic systems in your vehicle are responsible for routing power and information in order to dictate the behavior of certain systems. The electrical systems are linked by wiring, fuses, circuit breakers, and relays. Loose or broken wiring, poor pin fits, and broken connectors or switches may lead to intermittent power or a completely inoperative system. When you begin experiencing trouble with your electrical and electronic systems, ask yourself these questions: How often does this problem occur, and how long does this problem persist? The more information you are able to provide to our staff during an electrical and electronic systems service, the quicker we will be able to recreate the same conditions, and ultimately hone in on the exact problem.
Air-Conditioning Repairing and Maintenance for Your Car in United Arab Emirates
In order to drive smoothly and without sweating in UAE, it is important to keep your car air-conditioning system working properly and in better way.
UAE is a bit hotter in comparison to other places and paying proper attention of poorly performing air conditioning system is vital to get it repaired on time.
Keep Your Car AC Working well
Whether the AC system is not working or it seems to be chugging along just fine, scheduling regular maintenance is vital – mainly to keep interior of the car or SUV cool and at normal temperature to avoid heat. AC system plays a vital role for the duration of hot outside.
A.A.G Offers Car AC Repairing and Maintenance
A.A.G has a team of professional mechanics providing you precise solutions for your car for any make and model.
Proper inspection and maintenance of Air conditioning reduce the chances of compressor failure and provide you complete peace of mind.
We provide you Air conditioning repair in Dubai for your cars and SUVs to ensure proper refrigerant and lubrication level to reduce the risk of premature compressor failure. We also provide you precise solutions for blockage and lead that area easy to deal with.
For Air Conditioning repairing and installation or replacement even any time of the day and anywhere in Dubai, just give us a call or send us a mail.
Computer checkup
AAG with expert technicians using the wide range of latest diagnostic tool to diagnose and repair our customer's vehicles with extensive experience in dealing with a wide range of premium makes and models. Our skilled certified technicians are able to find the DTC and repair faults that are both identified by diagnostics and their visual inspection.
The modern car comes with complex electronic parts such as Traction Control, Immobilizers, Power Steering, Airbags, Electric Windows and Air conditioning System, Sensors like CKP, CMP, TP, O2 sensor, IAT, often fitted as standard and managed by the cars brain – Namely ECU (Engine Control Unit). When these systems are performing on power train, driving is a pleasure, but when a fault or warning light occurs, it is always advisable to have your car diagnosed by an experienced certified diagnostician with the right diagnostic tool at AAG to identify the fault and make the necessary adjustments or repairs or replace as soon as possible at affordable rate.