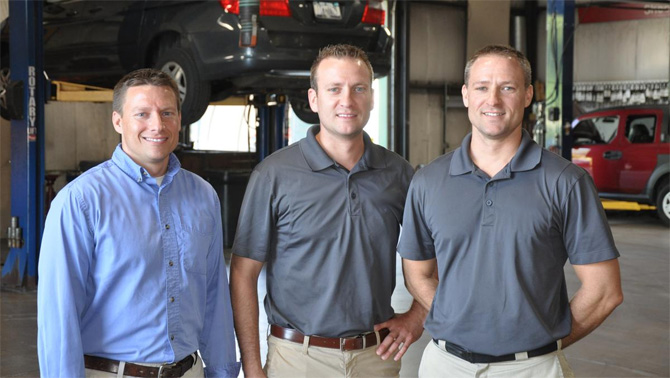 Your safety is our priority
Al Ahbab Garage (AAG) is not just an auto service and repair workshop in UAE. We're a team of professionals and highly trained technicians who are passionate about everything that has to do with cars and Trucks. Our management has over 31 years of experience in the vehicles maintenance and repair industry in United Arab Emirates. We've received many awards in our field of expertise. Our technicians have had the highest standard training and are handpicked out of the finest automotive mechanical engineers in the UAE and around the World. Whether you're driving a stylish American, luxurious European or an Exotic car. We are able to work on your car with our highly advanced tools. We are dedicated to support our customers with superior level of customer service, Car maintenance, and Car repair Dubai.
We are one of the leading auto repair shops serving customers in Dubai and the surrounding areas. All automotive repair and mechanic services at AAG automotive are performed by highly qualified mechanics. Our mechanic shop works on numerous vehicles with the use of quality truck and car repair equipment. Whether you drive a passenger car, medium sized truck, mini-van, or SUV, our mechanics strive to ensure that your vehicle will be performing at its best before leaving one of our service bays. Our auto repair shop is capable of servicing a variety of makes and models. Our superior standards show that our mechanics always have the best interests of our customers in mind.
If you are searching for a best garage in Dubai, best mechanics in Dubai, best auto repair workshop in Dubai or best car repair Dubai, you are at the right place.
Looking for a one-stop automotive repair shop? Look no further than us, and allow our mechanics to give you a reliable estimate of any automotive repair issue you might be facing.
Our number one goal has always been complete satisfaction for our customers. Our car repair shop has a longstanding reputation for quality repairs. Whether you need routine auto maintenance services or necessary car repairs, contact us online or visit us during business hours (8am to till 7:30pm)
Currently we are having 1.2 million satisfied customers in the United Arab Emirates.
Mission & Vision
Our Mission of "Customers and Vehicles for Lifecycle" is driven through an inspired workforce and by continually refining the performance of our existing resources and strengthening relationships with our customers.
Our Vision is to be the superlative auto car care company of choice by providing value-based customer experiences, qualified by an empowered and engaged workforce.
Strategy
Our customers are at the heart of everything we do. The bigger we grow, the more customers we can serve and the more we can do for them.
What runs throughout every part of our company is an outright commitment to putting the customer first. It is the thread that binds us and the attitude that sets us apart from our competitors.
Need Help With Your Car?
We'll fix it
We specialise in repairing accident damage to vehicles. In fact, we're the second largest accident damage repair network.
Call: +971 4 267 1889
APPOINTMENT
NEED HELP?